Call us now at
(215) 657-2244

to schedule a

FREE ESTIMATE, 24 hours a day 7 days a week!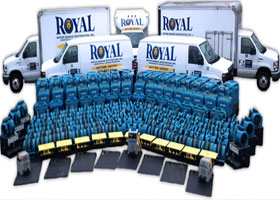 Royal Water Removal & Flood Cleanup
Sewage Damage Cleanup, Basement Drying, Carpet Cleaning...
We do water damage repair and removal, period. And we specialize in first rate water damage restoration services to residential and commercial property owners across the nation. Our teams of fully certified water damage restoration specialists (all of whom have passed extensive background checks) have many years of training and experience, which makes them more than capable to provide you with the highest caliber of fire and water damage restoration solutions. When you experience home water damage or damage to your business, the most important thing you can do is to call in a professional water damage cleanup service to take care of the situation promptly and thoroughly.

What is water damage and what forms can it come in, you ask? - This is a very good question that is very important to understand in order to be one step ahead of the problem when it occurs. There is a wide array of various water-damaged home situations that can arise from a number of different causes. With severe weather, such as flooding and major storms, as a cause, it is obvious when your property is at risk, however other times it is harder to find evidence of water damage. In any case, whatever the severity of your problem, our highly trained specialists will immediately perform a thorough damage assessment of your property and then follow the appropriate protocol to deliver industry leading water damage and restoration services.

We are definitely not strangers to the countless ways that water damage can manifest: dry rot, flooring, ceiling, drywall, floorboards, water damaged basements, and more. For any type and size of property damage situation, our highly trained floor repair and ceiling repair technicians are well qualified to provide you a complete and total water damage repair service. Water damage removal and water damage restoration serviceWe genuinely understand the stress and worry that you are feeling as these problems befall your home or business. Not only are you worried for the wellbeing of your home or business, but you are also concerned for the financial setback that may be incurred for water damage restoration services. We are extremely sensitive to each customer's situation, and therefore we strive to keep their repair costs at a minimum. If needed, our home restoration technicians also offer free consultation with the customer regarding their house insurance company and the handling of their claim.
Hesitate no longer Call us now at (215) 657-2244 to schedule a FREE ESTIMATE, 24 hours a day 7 days a week!
We will have a water damage specialist en route in less than 45 minutes! The situation must be dealt within the first 24-48 hours in order to minimize any major damage to you property. Give us a call NOW and let us prove to you that our local team of certified, water cleanup experts is fully equipped to quickly and effectively restore your water damaged home!
Testimonial's
I was feeling quite vulnerable when my house was damaged by water and really did not know what to do. One phone call to Royal made all the difference. They came out quickly, told me what they were going to do to remedy the situation, put my mind at ease and did the job they said they would do. I couldn't ask for more. Thank you to the whole team.

Diane -

Plymouth Meeting, Pa
I found the workers to be very professional and knowledgeable. They restored my carpets after the water damage making them look just as good as they did before the hot water tank water soaked the carpets in the basment.

Rhonda -

Philadelphia, Pa
I was beyond impressed with the entire Royal Water Damage Restoration crew. They not only walked me through each step of the process but they did it respectfully and with a smile. My stress completely left my body, and my place was as good as new by the end of the day!!! Job well done!!

Jennifer -

Philadelphia, Pa
Excellent Service-would Recommend Highly.

Marguerite -

Blue Bell, Pa
I appreciated that Royal Water Damage Restoration was willing to work with me to help me salvage everything I could and help me to save as much money as possible.

Neil -

Ambler, Pa